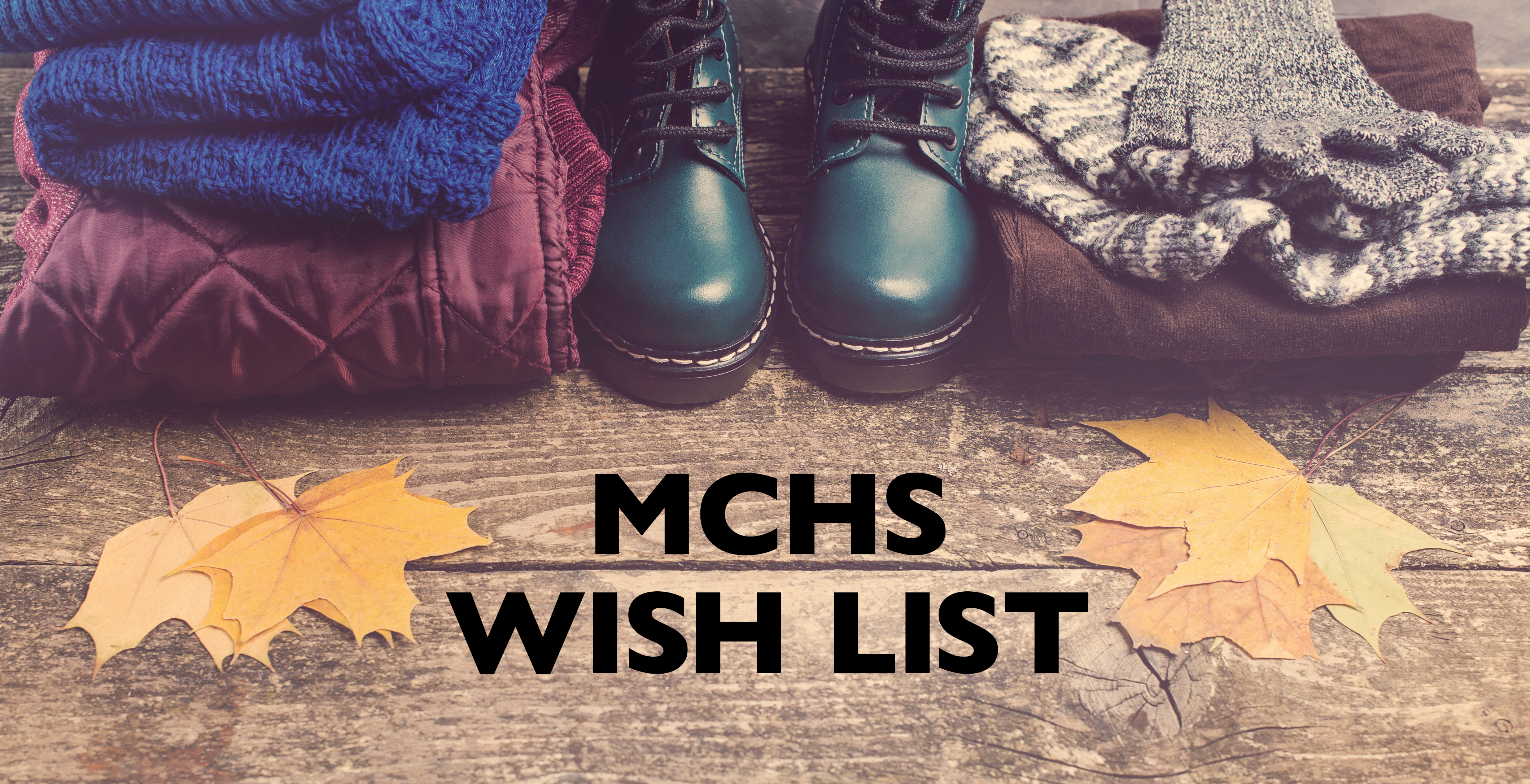 A great way to get involved with MCHS is donating an in-kind item or hosting a drive through your workplace, church, or school! Our Wish List of needs is constantly updated here:
Back to School!  Click here to view our full Back to School wish list!
Clothing
NEW Halloween costumes, youth ages 5-18 years 
Underwear (Boys sizes x-small – size 4-5 / small – size 6-8 / med – size 10-12 / large – 14-16)
Underwear (Mens sizes small / large & XL)
Undershirts (Boys sizes x-small through XL)
Undershirts (Mens sizes small and medium)n
Graphic Tees (Boys sizes x-small through XL)
Long sleeve shirts (Boys and mens all sizes)
Joggers (Boys sizes x-small through XXL) 
Joggers (Mens sizes small, medium, large, XL)
Jeans (Boys sizes 5-6 boys / 7-8 boys / 10, 12, 14, 16, 18)
Shoes
Sneakers (Boys sizes 1 – 5)
School Shoes (Boys sizes 1 – 5)
Sneakers and School shoes (Mens sizes 7 – 12) - Variety 
Boots – Boys and Mens all sizes 
Slides, flip flop, open toes (Boys - all sizes) MAJOR NEED
Hygiene Items
Towels
Body wash (Dove or other gentle, sensitive skin brand)
Wash cloths 
2 in 1 shampoo and conditioner
Bar soap
Loofa scrubs
Hand sanitizer
Lotion
Toiletry bags 
Bathroom mats / shower mats
Laundry bags (net or canvas with drawstring)
MCHS Detroit Office
Diapers
Wipes
Powdered formula
Baby blankets
Baby bottles
Swaddles
Miscellaneous
Microwaves
Irons
Pots and pans
MP3 Players MAJOR NEED
Sleeping bags
Over the ear head phones
Auxiliary cables
Helmets (ages 5-18)
Booster seats for travel
Gift cards to local grocery stores, movie theaters, Dave and Busters, etc.
If you are interested in coordinating a drive or donating an in-kind item, contact Kathryn Woodstock at (313) 531-9969 or at kwoodstock@mchsmi.org.