Foster Care
Through our foster care program at MCHS, we are able to provide safe havens for hundreds of children who have been removed from their biological parents' care because of the traumas of abuse and neglect. The children we care for in this program range in age from two weeks to 18 years.  We help them find safe and loving homes with the dozens of foster families we recruit, license, train and provide support to each year.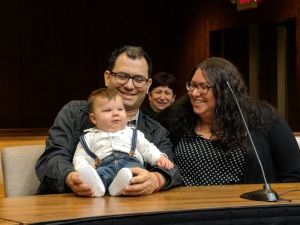 Caring for a child in foster care is not always a permanent commitment. Children who are placed with a foster parent could be there anywhere from a couple of months to many years based on the child's circumstance and the availability of the foster parent. Additionally, many parents choose to follow the route of "fostering to adopt," which ultimately allows for the adoption of a child once they spend some time in a home with a potential family. No matter the length of time a child spends in the home of one of our loving families, the impact on the life of the child is monumental and life-changing!
MCHS strives to encourage and provide support to its foster families through a variety of programs and activities. In addition to a monthly support group session, the agency also holds multiple training sessions throughout the year to prepare foster parents for the struggles and ambiguity that often comes along with the role of a parent.  Furthermore, MCHS provides its foster families with summer picnics, Christmas parties, field trips to attractions such as the Detroit Pistons and the Henry Ford Museum. We also provide school supplies, birthday and Christmas presents, and many other items which help to make caring for a child just that much easier!
By the Numbers
In 2018, 36 children found safety and belonging in our foster care program.
36 foster families opened their hearts and homes to care for these children last year.
The average age of a child in our foster care program is 8.6 years old.
Two thirds of our foster families comes from Wayne County, with the remaining majority coming from Oakland and Macomb Counties.
---
For more information on becoming a foster parent, please contact the MCHS Placement Office at 313-531-6190 or fill out our inquiry form here.
If you are a DHHS or foster care worker and are looking for information regarding referrals, please contact Stephanie Sears at 313-531-3140 or ssear@mchsmi.org.