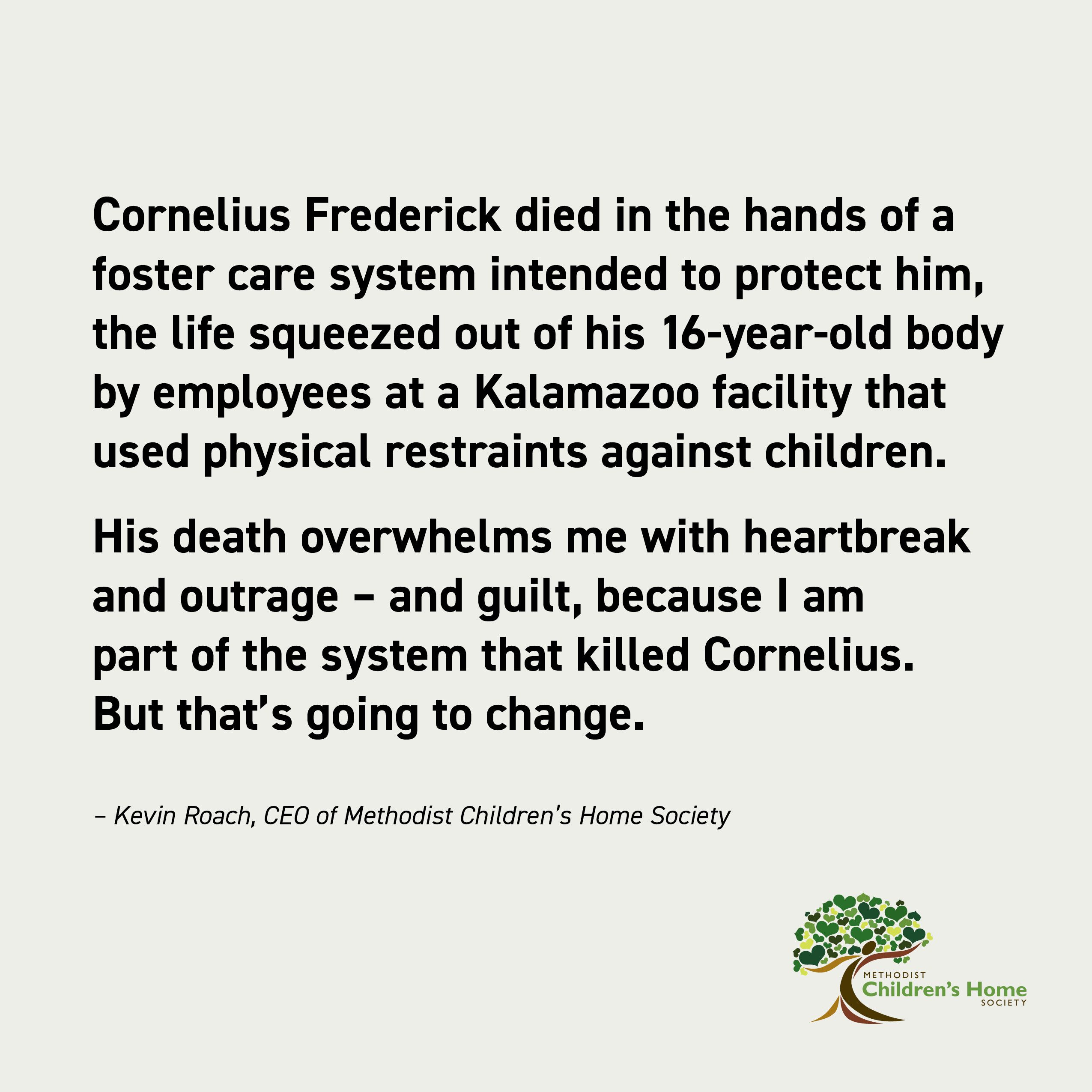 We listened to what our children needed. Restraints was never on that list. 6/26/20
Read Kevin Roach's op-ed in the Detroit Free Press.
Several weeks ago, a child in a Kalamazoo residential facility died from a restraint. Clearly, the restraints was unnecessary and preventable as it was alleged a staff member laid on top of the child for nearly 10 minutes despite the child's pleas that he could not breathe.
In announcing the termination of the contract with Lakeside/Sequel, DHHS also announced they wouldn't be doing business with providers that performed restraints. We supported the State's position, which we made public in this op-ed and called for facilities to stop this harmful and traumatic practice.
Restraints occur in most residential facilities across our country – facilities intending to heal the traumas of child abuse and neglect. They are taught and conducted in the name of keeping children and staff members safe from physical harm. Many children come to residential facilities exhibiting aggressive behaviors and extensive mental health issues, which stems from a lifetime's worth of trauma and pain. And this practice persisted for decades right through today, even despite the overwhelming evidence that emerged about how restraints did more harm than good. The research is clear that agencies cannot truly be trauma-informed while still performing physical restraints.
And while it is easy to point to the harmful practices at Lakeside, it serves as an important and even painful reminder of how necessary the direction MCHS has been going in the last couple of years is. We're committed to becoming restraint free as outlined in our 2018-2022 Strategic Plan. And while we're not perfect and are still learning, the adjustments we've made, no matter how difficult they've been, prove critical now more than ever.
I'm deeply ashamed of all the restraints I did in my previous work, fooling myself into thinking they were needed and how the child was better off. The last one I did was eight years ago and I still remember that child. It was not needed, yet it continues to be taught as a necessary tool in calming children.
I am also convinced that becoming restraint-free is one of the major actions the residential field can take to truly be anti-racist and against systematic oppression. As an industry, we engage in this violent and often chaotic act to control and constrain the child in the name of "law and order." Yet in restraining children who are acting on years of neglect, abuse and trauma, what are we teaching them?
We are proud that this year, we will have seen a 70% decrease in restraints from the year before. This comes on the heels of reducing restraints by nearly 60% in the last two years. And in the coming months, we will be the first facility in Michigan to ban this harmful practice.
This didn't occur overnight. There were a lot of hard conversations, intensive trainings, and multiple initiatives that were implemented. And because of the commitment of our incredible staff and the support of our community, we became trailblazers in this work, going beyond just our focus on being restraint-free, but redefining what residential care looks like. This went into reinventing recreational programs, implementing aftercare, enhancing family engagement, and expanding clinical treatment. We focused on nutrition, engaged volunteers, and focused on permanency. We listened to what our children needed. And restraints was never on that list.
And due to the generosity of so many, we had mentors and tutors, multiple clubs such as gardening and chess, and numerous community outings to give our children the experiences they had been deprived of. Our children could run and play, learn and grow. And in doing so, truly heal.
Because of all of these efforts and so many more, we were able to reduce our restraints significantly. And we were able to reduce the time children lived at MCHS as we all know the love of a family and permanency of a safe home cannot be replaced.  
This is how we best support, teach, and keep our children safe and healthy. Not by putting our hands on them, but by wrapping them up with an endless supply of opportunities, education, and care along with unconditional love. And pizza!
Thank you for all your support in making MCHS a leader!