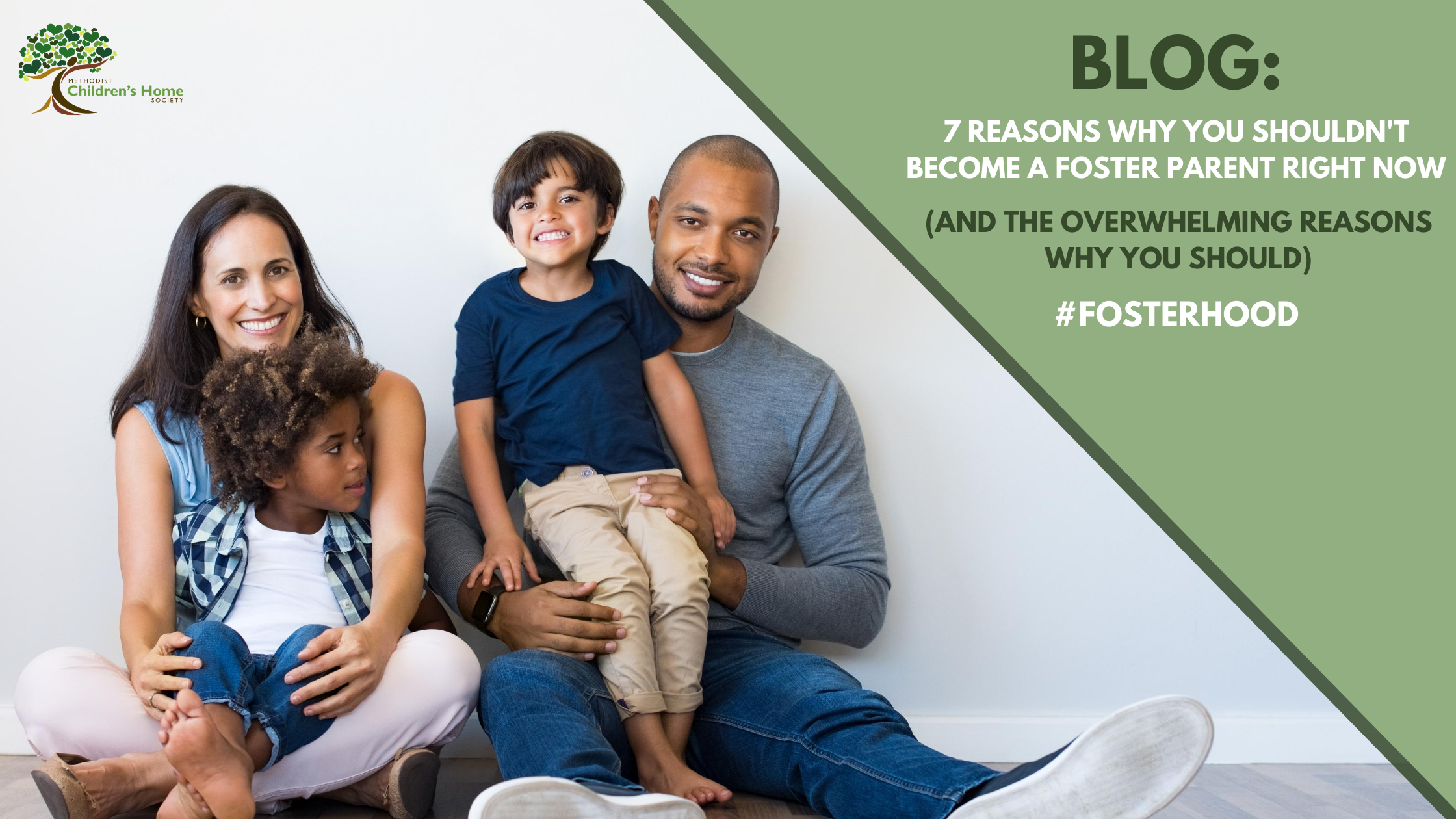 Seven reasons to NOT be a Foster Parent Right Now (And The Overwhelming Reasons Why You SHOULD), 7/24/2020
Let's be honest — #fosterhood is rewarding, but thinking about becoming a foster parent in the wake of COVID-19 can seem uncertain and presents new challenges. We came up with seven reasons why you may be hesitant to begin your journey to fosterhood and seven ways MCHS dismantles those hurdles to make your process simple. 
Deterrent: COVID-19 Health & Safety Concerns
Since the beginning of the COVID-19 pandemic, MCHS has led our community in implementing health measures and enforcing restrictions to ensure the continued safety of our staff, children and families. MCHS continues to monitor the health of our staff, residents and visitors by requiring temperature checks and health screens upon arrival. MCHS also continues to provide personal protective equipment (PPE) for staff and licensed foster families. No staff or community member tied to MCHS lacks access to the necessary PPE during this pandemic!  
Deterrent: Cost of Child Care
The average American spends nearly $15,000 per year on child care for one child. The cost of child care can be a deterrent for people interested in expanding their family. In Michigan, foster children have the potential to have child care costs waived. Visit the link below to learn more about how to access child care as a foster family.
Click Here: https://bit.ly/32Un630 
Deterrent: Educational Resources
In response to the COVID-19 pandemic, we developed virtual educational resources to support our foster families. MCHS provides families with virtual learning tools to ensure they stay engaged during the pandemic. In addition, MCHS provides monthly virtual support and information sessions and frequently checks in with families to gauge their needs. MCHS team members are willing to meet with families, one-on-one virtually or in-person to address any questions and provide resources and support.   
Deterrent: Cost of Transportation
MCHS is happy to provide its licensed foster families with resources to aid in transportation needs. MCHS provides bus tickets, ride services and gas cards when appropriate and on a case-by-case basis. At this time, MCHS has re-opened to in-person family visitations while some continue to be done virtually. All MCHS trainings continue to be done virtually to meet social distancing standards which assists with cutting down on required transportation.. Many families have found this to be helpful and MCHS will continue to work with families to best suit individual needs!
Deterrent: Lack of Support 
It's not just our staff who go above and beyond to support our families. It's our community at large! Upon licensing, each MCHS foster family is paired with a mentoring foster family which encourages communication and offers insight from folks who've walked the same journey. Amid the COVID-19 pandemic, MCHS swiftly adjusted our standard programming to encompass virtual services to reach our families where they were. Since March 2020, MCHS has been innovative in creating ways for our whole community to  support our families through this global crisis. MCHS has partnered with local organizations and  donors to provide our foster families with produce boxes, pizza dinner delivery and restaurant gift cards to ensure our families stayed healthy and safe. This is only a small way to thank our families for doing the greatest good in our community!
Deterrent: Licensing Process & Paperwork 
The process to become a licensed foster family can often be lengthy, taking months to finalize. We guarantee that our MCHS staff members are thorough, diligent, easy to work with and excited to walk you through the process from start to approval. The MCHS Foster Care team can conduct the foster care on-boarding process virtually, making sure they are with you every step of the way. As of July 24, 2020, MCHS resumed working with interested families face-to-face while practicing social-distancing guidelines. 
Deterrent: Quality of Service 
MCHS goes above and beyond to develop long-lasting relationships with our foster families and support our foster families by answering questions and concerns via phone, video conferencing, text and email no matter the time of day. After all, foster care is not a 9-5 operation! MCHS continues to complete assessments and home visits virtually and collaborates with community partners to ensure virtual services are provided to our children and families consistently and effectively. 
So should you become a foster parent?
YES – The time is now. A child is waiting for the love and safety of your heart and home. The devastating impact of COVID-19 has shaken our community. At MCHS, we have been preparing for an increase in children entering our care due to the pandemic, and unfortunately, that's exactly when we have seen.
While you may be on the fence about becoming a foster parent in an unpredictable time, know that our community's most vulnerable children are feeling this uncertainty tenfold. Our amazing Foster Care team is here to support you in every way possible. 
Learn more today about becoming a licensed foster parent. Contact Director of Licensing Danielle Stevens at dstevens@mchsmi.org or (313) 531-3372. 
CLICK HERE to learn more about foster care.