Crain's Detroit Business on CSSWC Acquisition, 7/29/19
Click here to read the full story on the Crain's Detroit Business site. 
Methodist Children's Home Society acquires Community Social Services of Wayne County
By Sherri Welch
Redford Township-based Methodist Children's Home Society has acquired Community Social Services of Wayne County, creating one of the largest foster-care providers in the region, according to the two agencies.
The deal, six months in the making, ensures CSS foster care, substance abuse, transitional living for young mothers and senior services will continue, as the longstanding nonprofit with earlier ties to the Roman Catholic Archdiocese of Detroit shuts down its own operations.
The deal reflects increasing pressures on social service nonprofits to increase collaboration and add capacity for data reporting that government and other funders are increasingly requiring.
The addition of CSS programs aligns with Methodist's new strategic plan to offer services for the whole family, rather than just children, in a bid to keep families together and prevent circumstances that lead to orphaned and homeless children, President and CEO Kevin Roach said.
Both organizations offer foster care. CSS also brings substance abuse, transitional living for pregnant and young mothers, and senior services.
Methodist will begin offering those services along with the merged foster care, residential care, adoption and independent living services it has long offered and new substance abuse services it launched in Detroit early this year.
The combined nonprofit will serve 2,500 children and families a year, including 300 children in direct foster care.
Some number of the roughly 50 employees remaining at CSS will be offered positions at Methodist as it takes over operation of the programs. But an undetermined number of positions will be consolidated with its own 150 employees, Roach said.
While there are no plans for CSS directors to join Methodist's board, CSS President and CEO William "Chuck" Jackson will join Methodist as chief strategy officer.
"Over the years, (CSS) had just simply not done the work it needed to remain competitive," Jackson said.
CSS operated for 67 years as Catholic Social Services of Wayne County until 2013, when it broke from the Archdiocese of Detroit amid a consolidation of Catholic charities in the region.
Years of lack of investment in infrastructure, especially around data collection to measure impact, hampered CSS' ability to remain competitive in bidding for contracts and grants, Jackson said. That led to the loss of a contract worth more than $500,000 with the Michigan Department of Corrections in 2017, and more recently, a $140,000 grant from United Way for Southeastern Michigan, Jackson said. CSS tried to cut its costs by reducing employees and putting one of its two buildings up for sale, but it still wasn't able to make the needed investments in its operations.
"It came down to a desire to increase our impact ... and a recognition that we were not able to be able to do that on our own," Jackson said.
Data collection and evaluation has not historically been a part of the way social services agencies do business, said Liz Gordillo, a program manager at Grand Valley State University's Dorothy A. Johnson Center for Philanthropy.
But social services agencies and the nonprofit sector as a whole are increasingly facing demands from government, foundation funders and donors for more information on where dollars are being spent and what impact they have, she said.
At the same time, funders and donors are directing more of their support directly to programs rather than infrastructure or capacity building, with fewer unrestricted dollars to use for infrastructure investment, said Gordillo.
"This is a new way of doing business for social services agencies in the nonprofit sector, reporting and using evaluation for learning within your organization, having standardized evaluation and processes to collect and report data to secure new funding," she said.
The addition of CSS's programs builds on new child-abuse-prevention and substance-abuse services that Methodist launched early this year at Durfee Innovation Society, the former school in central Detroit renovated by the nonprofit Life Remodeled.
"Abuse and neglect doesn't happen in a vacuum," Roach said.
"We knew it was critical if we were going to help these children ... we had to take care of the entire family."
Methodist and CSS saw that together, they could have a larger impact on strengthening those families, he said. The center at 1600 Blaine in Detroit will be transferred to Methodist Children's Home as part of the merger.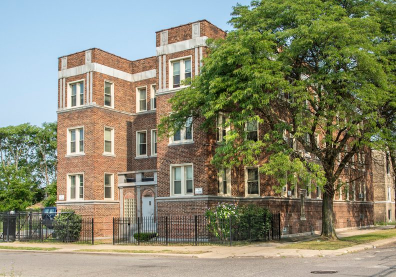 1600 Blaine, one of the assets in the acquisition
Through the deal completed July 12, CSS transferred its programs, contracts and an apartment building at 1600 Blaine St. in Detroit, which provides transitional housing for previously homeless mothers, to Methodist Children's. No money changed hands in the sale.
Methodist also will take on a month-to-month lease CSS had in Dearborn as a space to provide some outpatient substance abuse services. Other substance abuse programs, along with foster care, and senior programs transferred by CSS will now be offered at Methodist Redford and Durfee sites, Roach said.
The combined organization will operate on an annual budget of just under $15 million.
Methodist, which has been in operation since 1917, holds an investment portfolio that provides distributions to support its operations.
According to its audited financial statement, which include the results of its investment portfolio as well as operations, it had $78.5 million in net assets at the end of 2018.
On an operational basis, it had $8.3 million in non-investment, operating revenue in 2018, up about $800,000 from the year before with increases in government funding and contributions. Its expenses for 2018 were $8.8 million, up from about $8.5 million in 2017.
Revenue for CSS dropped to $4.57 million in its fiscal 2018 ended June 30, down from $5.3 million the year before. It reported a loss of $436,962, following near-break-even results of just under $55,000 over expenses in 2017. Its net assets totaled $2.58 million at year's end, down from $3.02 million in 2017.
The social services nonprofit put its main location, a 35,000-square-foot building at 9851 Hamilton Ave., northwest of Detroit's New Center area, up for sale before the Methodist deal. The move was one way CSS hoped to generate cash to reinvest in its infrastructure, Jackson said.
CSS expects to close in August on the sale of that building. Jackson declined to identify the buyer, citing a confidentiality agreement, but said he expects the sale will bring $700,000-$900,000 when completed.
With more programs under its management, Methodist Home is now looking at a few other locations in Detroit to lease or buy, Roach said.
"We truly believe that we can further grow and expand these programs and services with our treatment model in treating the whole child and family unit and tackling challenges they face, such as grandparents raising their grandchildren, substance abuse, and mental health."