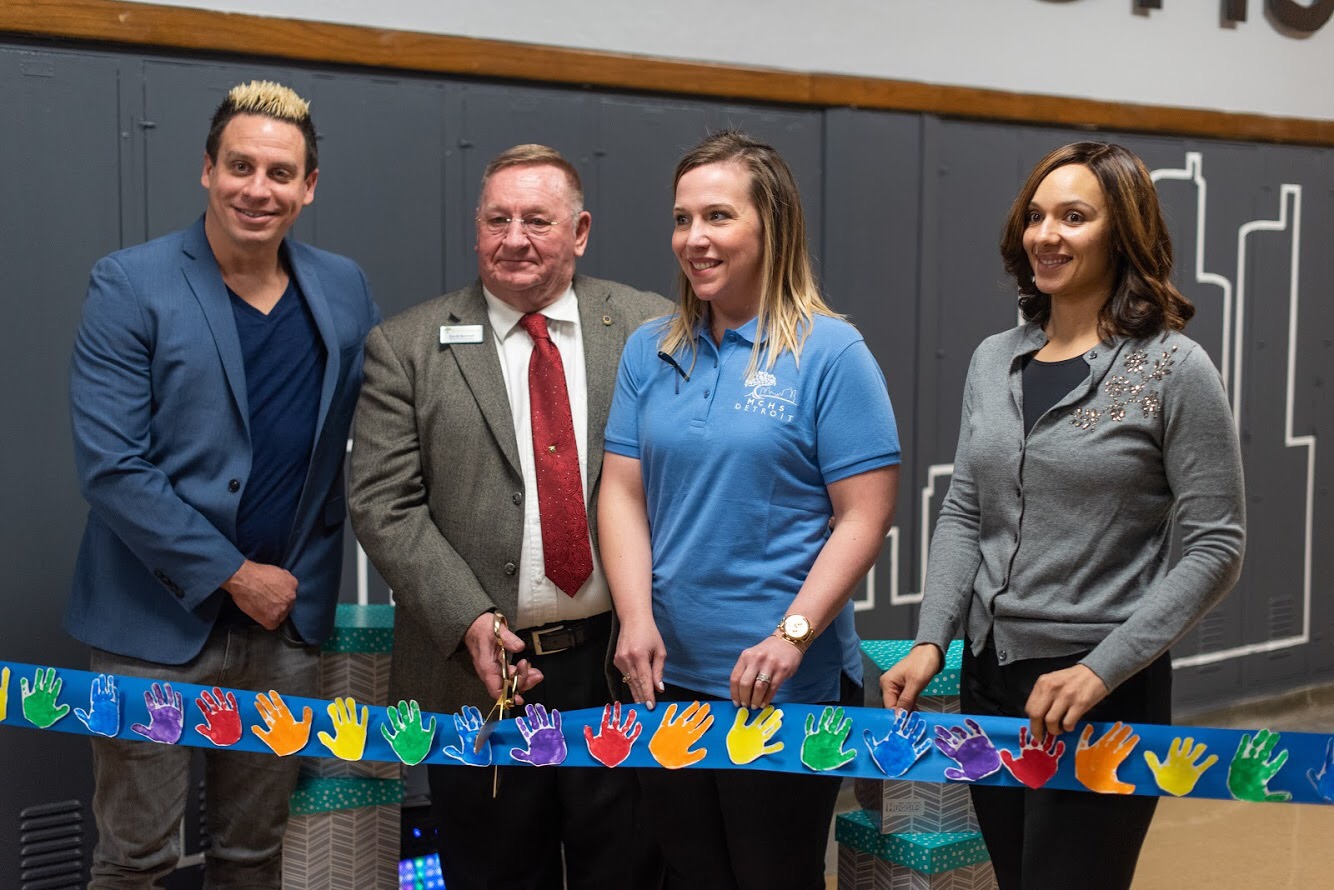 Why Detroit? 4/23/19
Our campus in Redford, home to MCHS since 1927, is indisputably beautiful. Even in the cold, dreary winter there's something peaceful and idyllic about our campus, which has 22 buildings and 23 different types of trees, covering 80 spacious acres. By this time each year, with the flowers blossoming and our trees returning back to life, it gets even better. Whether it's hearing the birds chirp or watching the deer dart across our campus or listening to the water rush over the rocks in the River, our campus offers a sanctuary, a safe haven for so many of our children.
Yet, we knew we could do much more for our children and families. In many ways, we knew we had to do more. As we focused on expanding and enhancing our services in foster care and adoption because the need is so great, as well as wrapping our arms around children in danger of entering the system or children who had been devastated by the opioid crisis, we knew we it wouldn't be contained to just our campus.
And as much as we love our home, which is only a mile and half west of Detroit and a block east of Livonia, we knew if we wanted to best serve the children and families who need us the most, we had to be in Detroit. We had to be willing to be in their communities and serve in their neighborhoods. We had to immerse ourselves and understand every step and every challenge so that services weren't tailored on what we thought was needed or our preconceived notions, but what our children and families truly needed.  
Our programs, which go beyond residential care, foster care, adoption and independent living services, have always been a response to help children after they've already entered the child welfare system. Even with the additional comprehensive services we provide, including individual therapy, group therapy, family therapy, education services, mentoring, tutoring, case management, aftercare services, recreation, and so much more, we were responding. As critical as those services are, and something we plan to continue growing, we knew more had to be done on the front end. And so, after careful consideration of how to best engage and where those services should be located, we knew it was in the great city of Detroit.
We're eager to be in the city as we'll expand our foster care and adoption services in Detroit, as well as focus on prevention work and substance abuse services, which is a direct response to the rise in the drug and opioid epidemic.
As Detroit continues its new chapter, one of great revival and soaring potential, we will not only be present but also active as a community leader. Not to worry though as our campus in Redford will continue to be a natural refuge for our children and families who need treatment, care, and stability. We'll do the same in Detroit, further empowering our families and strengthening our community. After all, Detroit can only be as great as its children and families.
Leaving a Legacy, 11/13/2018
While it was only just recently announced that Sears filed for bankruptcy, its demise was actually a long-time coming.  The closing of the once retail giant, once the largest retailer in the world, should serve as a cautionary tale that nothing lasts forever.
Most of us remember Sears, even if for nothing else, for their expansive retail stores. Others may remember the Sears catalog, a wonderful, telephone-sized book that showcased everything from tools and gadgets to barns and houses. Originally intended to reach rural America, it became part of mainstream America, and by 1940 Sears accounted for one percent of the entire U.S. gross national product as they launched new product lines including Craftsman tools and Kenmore appliances. Sears truly was the Amazon of the early and mid-20th Century, until ironically enough, Amazon came along.
Along with R.W. Sears, there were two other founding partners: Alvah Curtis Roebuck and Julius Rosenwald, both of whom served as presidents of Sears. Rosenwald gave Sears its physical presence where one could buy paint, a suit, and a radio all in one place.  One of their business partners and competitors was S.S. Kresge. Kresge's path would cross frequently with the Sears team, as all were well known titans in the merchant industry. By the time of his passing in 1966, the S.S. Kresge Company operated 930 stories with 42,000 employees and was the second largest retail store in the U.S., behind Woolworth. In 1977, the S.S. Kresge Corporation changed its name to Kmart, as Kmart was a fast growing chain and among the first big-box retail chains. At its peak, they operated 2,171 stores.
In 2005, after Kmart emerged from its own bankruptcy, Kmart and Sears merged, forming Sears Holding. And so the closing of Sears recently, meant the last of the Kresge businesses too. 
And yet because of their contributions and efforts, their legacies will endure. Rosenwald? No one knows he was one of the founders of Sears, yet for many who grew up in the South know the name Rosenwald. In partnership with Booker T. Washington, Rosenwald helped build nearly 5,000 schools and another 350 shops and teachers' homes to provide disadvantaged African American children, growing up in the deep Jim Crow South, a chance at a decent education. By 1928, one out of every five schools in the South was a Rosenwald school. These schools were progressive, rethinking the school design to address concerns related to sanitation, lighting, heating, ventilation, and more, all to create the best learning environment for its students.
Kresge won't be remembered for Kmart or his thrift stores, but rather for the his foundation, the multiple buildings he built through universities and hospital systems, and our very own Methodist Children's Home Society, where he provided the initial seed money for our campus and endowment. In a New York Times article upon his death, it read that Kresge "was also an active supporter of the Methodist Children's Home near Detroit…"
So even though businesses and companies may come and go, and more and more nonprofits are closing their doors, we, at MCHS never lose sight of what's truly important—a strong legacy to ensure we are able to help abused and neglected children for decades to come.
How will 'Families First' affect MCHS? 9/26/2018
It didn't get the attention of Obamacare.  It barely mustered any headlines beyond child welfare circles.  Yet, the impact of the Families First Prevention Service Act (FFPSA), which was signed into law on February 9th of this year, will be felt by millions of children and families.  And the way Obamacare radically altered the health industry, Families First has the potential to do the same in child welfare. Undoubtedly, Families First will forever change the foster care system.
The name indicates the focus of the legislation.  More so, it symbolizes the prevailing attitude of our country where we firmly believe children do best in families. Therefore, we should keep families together.  And when this is not possible, such as cases of abuse and neglect, we should rehabilitate and provide services to reunite families.
How does Families First change that?  After all, "reasonable efforts", a standard that has been the underpinning of child welfare services since 1980, outlines family preservation.  What Families First did was allow States more flexibility to use federal funds (Title IV-E) beyond just foster care services, but on foster care prevention and family preservation.  This included children who've left the system and reunified with their families as well as those in danger of entering the system.  As estimated by the policy experts, nearly $1 billion would be freed to begin providing crucial prevention services. For advocates who have long cried out that more must be done on the front-end celebrated this legislation as an important milestone.  Up to this point, IV-E monies have never been available for children outside of the foster care system.
How will this shape the foster care system?  Essentially, when the definition of children eligible for foster care services is expanded to include children not in the foster care system, there will be less money for children currently in the system.  Through the "maintenance of effort" stipulations that was included in the bill and are typical of many entitlement reforms, states will not have the option of using new funds to supplant current spending.  As a result, the primary funding source for children in foster care will be stretched even thinner.
That includes children residential treatment facilities, like MCHS.  Families First will shift monies away from treating children in residential care, including placing time restrictions on how long children can reside in residential care.
For the most part, MCHS championed and supported the efforts of Families First.  Other guidelines that were established included ensuring residential treatment facilities were accredited, implemented evidence-based treatment, be family driven, have clinically trained staff available 24 hours a day, and provide follow up services, are all good things that foster children deserve.  And at MCHS, we have all of that as we knew our children needed it.  We firmly believe every residential care facility should have such services in place.  Really, though, did Families First go far enough?  Not to get off track, but doesn't every child in foster care deserve these services, not just those in residential care?  Either way, for all intensive purposes, Families First was in the right direction, with one exception.
Greatly reducing residential care facilities as a treatment option is shortsighted.  It assumes one size fits all; that every child can be and will be successful in a foster home.  Yet, we know that's not the case.  Too many children I've met and worked with come to mind that needed the treatment and support only a residential facility could provide.  Was residential care a permanent solution?  By no means and it never should be seen as such.  Yet, it was a critical step towards permanency for the child.
One of the lingering questions that hasn't been answered is where these children will turn to?  With an estimated 14% of the foster care population in residential care that will ultimately be reduced because of Families First, we will need more foster homes.  Yet, there is a severe crisis of foster home shortages.  In addition, the high majority of foster homes are not equipped to handle the trauma and behaviors of these children? Being a foster parent is not easy.  That was highlighted in a recent article in the Washington Post, which highlighted the impact childhood trauma has on foster families as well as numerous other studies.
With the increased number of children entering the system, much of which is related to the Opioid Epidemic, why reduce a treatment option that can meet the wide-ranging needs of children in foster care?
-Kevin
Are We Ready? 9/05/2018
"I don't wanna grow up. . . I'm a Toys 'R' Us kid!"
 
Blockbuster, Borders, General Foods, Sports Authority, Circuit City, and most recently. . .Toys R Us, which shuttered all of its doors this past June, liquidating the few remaining assets they had. As much as Amazon was to blame for the demise of another industry giant or that more children were choosing to play with iPads then with Legos and dolls, the problems with Toys "R" Us were present long before. 
 
A major problem was unsustainable debt – somewhere in the billions of dollars. The second and perhaps bigger problem was not adapting to the changing environment, which included the rise of online retail and the use of technology. Toys "R" Us never recovered in incorporating fresh ideas, such as adding playrooms to allow children to try out toys or have birthday parties. They never lowered prices, their return policies were behind many of their competitors, and quite simply, their stores had a reputation of being disorganized and unsanitary. The list goes on, but ultimately, Toys "R" Us failed to respond to the new environment of consumerism.
 
There's a similar movement going on in child welfare, specific to residential care. How do we avoid becoming the Toys "R" Us of this realm? Other agencies in Michigan have scaled back their residential programs tremendously or closed their doors entirely.  And many other agencies, including us, are bracing for major changes that will be taking place because of Families First as well as the budgetary cuts that are taking place on the federal level. Similar to how Obamacare upended the health care system in our country (though much of it has been gutted), Families First will have a similar effect on child welfare.
 
Are we ready? Is the greater child welfare industry ready? Ready or not, our industry is changing and we all need to be ready to change with it for the sake of the children we serve. In upcoming blogs we will examine new dynamics and imperatives and the best way forward as MCHS continually evolves and adapts to serve its mission to the fullest. Next time: more on Families First.
- Kevin, 09/05/2018
We've got a lot to say! 8/31/2018
We've got a lot to say about the state of child welfare. Our staff at MCHS have informed (and sometimes unorthodox) thoughts and opinions about what we are doing well, where we are falling short, and how we can do better in creating brighter futures for some of Michigan's most vulnerable youth - children in Michigan's  foster care system -- as well as more than 438,000 in the national system.
Through our new website and blog, we'll talk legislature and politics, as well as the business of human services as it relates to the care we provide our country's children. We will discuss the innovative ideas we have when it comes to caring for the therapeutic, educational, and holistic needs of our children…as well as anything and everything in between!
If you're looking to get more involved, leave a comment or connect with us on social media:
Facebook, MCHS | Twitter, MCHS | Twitter, Kevin Roach | LinkedIn, MCHS | LinkedIn, Kevin Roach 
We're excited to have you join this conversation, and while we know what we post might not always be the safest or most common response, and there will be some who won't always agree with the stances we take, we hope this opens up more engaging conversation around our nation's kids. So, yes, we've got a lot to say, we've got a lot more to learn! Let us know what you think, contact your legislators, become an advocate, and make us better. Despite the challenges we face, as a community, we can provide children and families with what they need to be strong, successful, and thriving.